Best sailing Yacht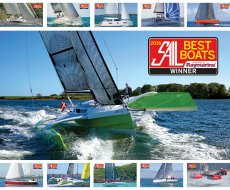 |
By Nigel Calder, Christopher White, Adam Cort, Charles J. Doane, Zuzana Prochazka & Tom Dove
Every year's Best Boats competition brings at least a few surprises, but the class of 2016 has provided more than any other. For one thing, multihulls have figured more prominently than ever before. Whether it was by dramatically revamping the way space is defined both above and belowdecks or literally taking flight through the use of lifting foils (aboard not one but two of our winners) the multihulls in this year's class illustrate a willingness to push the envelope that is nothing less than courageous in terms of commitment.
Not that their monohull counterparts are any less exciting. Whether it's developing what may well become a new market niche—the mini-superyacht—or creating a platform that puts true grand prix sport boat performance within the grasp of mere mortals, today's monohull builders are also discovering innovative ways to make sailing more exciting and enjoyable.
What's not surprising is the creativity of the industry's builders and designers, who continue to not just expand the boundaries of the sport, but do so in such myriad ways.
Flagship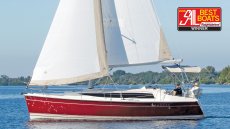 The French builder's new flagship is much more than just a scaled-up version of its smaller boats. Jeanneau's production maestro Erik Stromberg spent years plotting the creation of this boat with yacht designer Philippe Briand and interior-design maven Andrew Winch, and they have succeeded in marrying a super-yacht sense of style and luxury with a mass-production building ethic. The result, our judges agreed, is a top-flight luxury cruiser delivered at an extremely competitive price point.
Cruising Monohull 41-50ft
According to Italia Yachts, the goal with the 13.98 was to create a "luxury cruiser" in which performance is a part of the "luxury equation, " and the company has lived up to that ambition and then some.
Cruising Multihull 31-40ft
Known for its monohulls, Bavaria recently acquired French catamaran builder Nautitech and enters the multihull market with the new Open 40, a boat that has been making some serious waves at the many boat shows where it appeared this year.
Cruising Multihull 41-50ft
Not so long ago, cruising catamarans were unique simply by their existence, but no more. With such a selection of cats available, we now look for innovative features, efficient hulls, good use of space and easily handled rigs. The Bali 4.3, a production model from the La Rochelle factory of custom builder Catana, has them all.
Performance Boat over 30ft
When looking for a boat to take top honors in their Performance Boat over 30ft category, SAIL's judges didn't have to look very hard. Since she made her very public debut this year at the Les Voiles de St Barth regatta, Timbalero III, the first hull of the full-foiling, 40ft Gunboat G4, has been turning heads and sparking conversation from the Caribbean to New England.
Cruising monohull 31-40ft
Marlow-Hunter has long been known as an innovator in the marine industry, and the new Marlow-Hunter 31 is keeping that tradition alive with a mix of interesting features, large and small.
Small Cruiser
The newest and smallest member of this range of well-crafted folding trimarans from Denmark's Quorning Boats impressed our judges with both its design and its build quality.
Daysailer
It was heartening to see a whole crop of new daysailers at this year's fall shows, including boats with one, two or three hulls. But in the end the judges decided the real standout in the group was the Corsair Pulse 600.
Performance Monohull under 30ft
Who hasn't at some point dreamed of being a rock-star grand prix racer? Alas, the cost of this kind of sailing has meant that for most sailors it has remained just that, a dream—until now. With its new 28R, veteran Chinese builder Fareast Yachts has brought to market a true high-performance speedster, capable of mixing it up with the big boys at the modest price of just $60, 000 for the boat, sails and even a trailer.
Performance Multihull under 30ft
At approximately 1445 on October 13, 2015, the day after the Annapolis sailboat show, history was made when the increasingly creaky and cranky 195lb, 51-year-old executive editor of this magazine experienced full-foiling sailing performance in all of about 10 knots of wind.