Yacht in New York City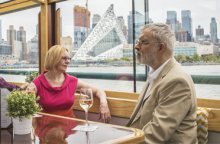 AIANY Around Manhattan Architecture Tour
Guided by members of the American Institute of Architects, the New York City architecture tour will take you on a full circumnavigation of the island of Manhattan. During the 2 hour and 45 minute cruise you will explore recent and innovative skyscrapers, residential "Starchitecture", enduring Art Deco and Beaux Arts icons as well as waterfront parks and infrastructure. The newest features of the evolving Manhattan, Brooklyn, Queens & Bronx waterfronts are seen in comfort and style, from the climate-controlled, enclosed back-deck observatory or from our open bow; for some fresh air and sunlight. Light hors d' oeuvres and a complimentary beer, wine, or champagne is included. Continuing education credits available »
Depart: Chelsea Piers Boat: Manhattan Cost: Adult $78 | Student $58
AIANY Lower Manhattan Architecture Tour
Lower Manhattan Architecture Tour narration, provided by members of the American Institute of Architects' (AIA) New York Chapter, is general enough for visitors, yet detailed enough for the locals, design students and professionals! (Students should take advantage of our reduced 'student' tickets on this tour.) On this 90 minute cruise, you will cover all the major sites of Lower Manhattan (below 59th Street) and pass beneath the Broooklyn, Manhattan and Williamsburg Bridges while taking in monuments, architecture, parks and infrastructure. Continuing education credits available »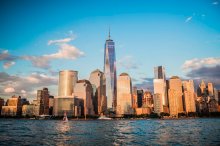 Depart: Chelsea Piers Boat: Manhattan Cost: Adult | Student
AIANY Around Manhattan Bridge Infrastructure Tour
John Kriskiewicz, professor of Architecture and City Planning at Parsons and FIT, is your host for a full circumnavigation tour that takes an in depth look at the engineering marvels of all of New York City's fantastic, historic, and wildly different bridges and tunnels! Historical anecdotes and tales of great human engineering feats tell the story of these great 18 bridges and 4 tunnels. Light Hors d' oeuvres and a complimentary beer, wine or Champagne is included. Continuing education credits available »
AIANY Industrial Waterfront Tour into Freshkills Park
Cruise the active, vibrant waterway of the Kill Van Kull and into the heart of Freshkills Park of Staten Island on one of our luxury yachts. The AIANY & planners of the Freshkills Park host this special Classic Harbor Line tour. This is the only water tour available to the public into the Freshkills waterway. Officially closed in 2001, Freshkills has embarked on a 30-year project to be transformed into the largest city park in NYC!
Featured Guests Guides for this year's series of visits to FKP are:
May 22: Capt. Cait Field, FKP TEAM
July 17: Eloise Hirsch, FKP TEAM
August 28: Laura Truettnern, FKP TEAM
October 9: Dylan Gauthier*, An artist who has been working on the park
Depart: Chelsea Piers Boat: Manhattan Cost: Adult $78
AIANY Featured Guide Series
The AIANY Tour Committee's Featured Guide Series invites NYC waterfront specialists, from varied fields and disciplines, to offer first hand insights drawn from their involvement in the transformation of our city's edge. AIANY Tour Committee co chair, Arthur Platt, hosts the Featured Guide and contributes Around Manhattan NYC Architecture Tour narration.